The Greatest Laptop Ever Made
I've been supporting users of varying degrees of experience, mobility and technical requirements since my first network administrative job started in early 1997.  Over the years, computers have become more commoditized and the options have become more standardized to the point that what brand you buy is more of an aesthetic choice than ever before.  I've seen users who run a single terminal emulation program as their only daily computer use (and their modern day browser-only analogs) to demanding execs who have a spare clone of their laptop at all times along with a docking station at their various homes and offices.  Not to mention the phone, tablet and other devices they carry. So what makes the greatest laptop?  To me, it's a no-compromises device that is powerful enough for the most demanding users and applications but simultaneously portable and modular enough to be equally at home on a coach-seat trayback table and a tremendous triple-screen executive super-office. Meet the 3.05lb laptop that can drive three external screens (or just its own) with an uncompromising Intel i7 processor: The Dell Latitude E6230.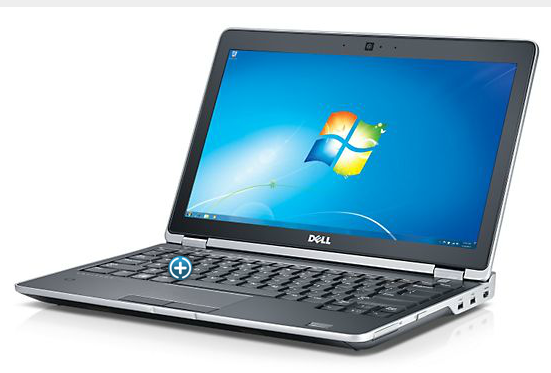 The Basics

Regardless of how you configure the rest of the components, the following can be found on all configurations:
12.5″ HD WLED backlit screen (1366×768 resolution)
3.05 lbs
Onboard ports: Ethernet, HDMI, VGA, eSATA, 2 x USB, ExpressCard and headphones
The Laptop Experience
When I first bought one of these, I was concerned that the 1366×768 display would feel too small and considered upgrading to a larger device to get full 1080p.  Now that I've spent some time using it, I'm glad I decided to stick with the smaller screen. My wife uses one of these as her main computer and carries it to work as her only device.  Where she used to occasionally pine for an e-reader to go with her older 14″ Inspiron, this machine covers her entertainment needs as well as her professional ones as a practicing physician.  Whether editing a patient's electronic medical record, keeping up with friends on Facebook or playing an occasional game – she's covered with one device small enough to hold in one hand and type in the other. The built-on HDMI port supports full 1080p on a monitor or HDTV, so if I'm going to watch a movie or play a game I'm covered.  If I just need something super-portable, the built-in 12.5 inch screen does just great.  In fact, it's reasonably comfortable to play a quick session of an MMO like Star Wars: The Old Republic with the full keyboard and small screen.  The graphics aren't going to beat the experience of your high-end gaming cards, but they're no slouch either.  At medium detail and 720p (and preferably with the i7 processor) mobile gaming is very doable on the Intel HD 3000 or 4000 graphics chipsets. The Desktop Experience Right out of the box, the computer supports up to three screens.  Without a dock, those are the built-on 12.5″ screen, a second screen on the HDMI port and a third on the VGA port.  However, the addition of a dell E-Port ($130) or E-Port Plus ($200) dock makes it even more of a powerhouse on the desktop. Both charge the laptop while it is connected and both replicate all the onboard ports (as listed under "The Basics") so you can leave your desktop equipment plugged into the dock and take just the laptop when you go.  This includes 6 x USB, eSATA, Ethernet, Audio (speakers and mic) a Lock Slot to secure it to your desk, and a connector for an optional monitor stand. The E-Port Plus is the true gem, well worth the extra cost.  It gives you 2 x Display Ports (for newer monitors), 2 x DVI-D ports (most monitors) and 2 HDMI ports via a dongle adapter. Here are the most widely used examples of how this is used in a desktop situation:
With no dock, plug in an external monitor or projector on the VGA port to give a presentation or use a second extended screen.  Optionally, add a USB keyboard and mouse for prolonged usage.
With the E-Port, connect a large external monitor (up to 2560×1600 resolution!) and either use it exclusively with the laptop shut and external keyboard and mouse or with the latptop as a secondary display.
Best – With the E-Port Plus, set up your desk to run as a dual-screen powerhouse with two 1080p monitors, external keyboard and mouse for increased productivity or watching full 1080p video on one screen while using any other program on the other screen.
Recommended Configuration This is not intended as a "budget" solution.  With a machine powerful enough to be your dual-display desktop at work yet small and portable enough to be your entertainment/browsing device you're getting close to three devices in one: A desktop, a laptop and a netbook that's very close to being a tablet with a keyboard. With that in mind, here's how I would configure it (with the specific parts as of this writing in parenthesis):
Intel i7 Processor (3rd gen i7-3520M 2.9Ghz 4M cache)
Windows 7 Professional64-bit (Windows 8 Pro x64 was not yet available, but likely will be soon and I recommend selecting it when you can.  Dell will also allow you to upgrade for $20 at a later date.)
8GB Memory (DDR3-1600Mhz SDRAM, 2 DIMMS)
Intel HD Graphics 4000 (should be the only option with the i7)
Built-in Webcam & Mic (Light Sensitive Webcam and Noise Cancelling Digital Array Mic)
Intel SSD Enhancements (Intel® Rapid Start Technology and Smart Connect)
128GB SSD Hard Drive (If you need more space, consider an external eSATA drive.  It's a lot cheaper than the 256GB SSD and you can get about 1,000GB of space for less than $150 instead of an extra 128GB for $350.)
Dual-band Wi-Fi card (all the power and compatibility you're likely to need for $15 – Dell Wireless™ 1540 802.11a/n Dual Band, High Speed Wi-Fi Half Mini Card)
6-cell battery (6-cell (65WH) Primary Lithium Ion Battery, (3.0Ah) ExpressCharge Capable)
90W A/C Adapter (90W A/C Adapter (3-pin)
Productivity Options In addition to the recommended configuration, you should include one of the following options to get the desktop experience that's right for you at your home, office or both:
"No-frills" option: Add an additional AC Adapter (check the box at the bottom for the 90-Watt AC Adapter) so you can leave one charger at the office and carry the second with you on trips or use at home.  Three would be perfect, but two usually works great even if you leave one at home and one at the office and just use the battery in between.
Dale's Recommended Option:
Add an additional AC adapter so you can leave one at home and keep one in your bag
For your office, use the E-Port or E-Port Plus as your charger and leave the adapter in your bag so all you NEED ever move is the computer itself
If you can live with one monitor, get the E-Port and a nice big monitor, keyboard and mouse.  For two screens of equal size, the best for productivity, go with the E-Port Plus.
It's likely you already have monitor(s), keyboard and mouse for your office but if you want my suggestions get 2 of these awesome ASUS 1080p monitors, the most comfortable ergonomic keyboard I've ever used, and the most accurate mouse you can find.
Extras
Add a high quality, dirt cheap Amazon Basics HDMI cable to your bag.  Chances are you can turn any HDTV you find into a movie playback screen with your little computer and this $6 cable.
Speaking of cables, this one goes from DVI to HDMI and is a great way to use a standard monitor with the laptop's built-in HDMI output (for better picture than the VGA) but it's also great for plugging an HDMI device like a Blu-Ray or game console into a standard monitor as well.  (Hint: So you can play XBOX on a computer monitor while someone else uses the TV.)
The Future The E-Port and E-Port Plus and the monitors will work with any of the Latitude E series in case you want to drag a larger screen size around or are reading this article in 2014 and wondering about that.  The investment in the desktop side of the environment will last you well into the next laptop or two you buy as Dell has a proven track record of supporting the Latitude series as its flagship device.  Don't be surprised to see an even more portable model with a detachable screen that becomes a Windows 8 tablet in the near future.  If I can wait that long, that will be my next project – to find the best ultrabook/convertible Windows 8 device.