Beautiful Boy – Movie Review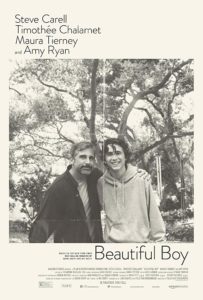 Beautiful Boy – R
Release Date: Fri 12 Oct 2018
In the Q&A after this movie premiered at TIFF, the director and producers talked about how they hoped that their movie could help people move past the shame of drug addiction. That only by being honest and open about it can we hope to get better as addicts, parents, friends and family of addicts.
Steve Carell and Timothée Chalamet star as father and son David and Nic Sheff. The film blends together two books: Beautiful Boy by father David Sheff and Tweak by son Nic Sheff. The editing sometimes works better than others as it strains to make both characters the focal point of the film. Usually we spend time with David when Nic is somewhere off the wagon and off the rails. We see the tragic cycle of forgiveness turning into lies and relapses again and again.
Beautiful Boy doesn't have a transcendental moment. There's no "there's the Oscar" scene. This is due to the focus on realism and the incredibly difficult juggling act of merging both perspectives and keeping the story moving forward. The beginning of scenes tend to be longer than the ends. It never quite lets us breathe.
Maura Tierney and Amy Ryan are great in supporting roles as David's second wife Karen, and Nic's mother and David's first wife Vicki respectively.
The movie is not the tearjerker I expected it to be, but a frenetic and sisyphean story of the cost and struggle of addiction firsthand through the son and secondhand, primarily through the father.