Sicario: Day of the Soldado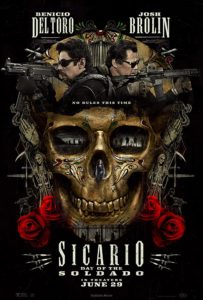 Sicario: Day of the Soldado – R
Release Date: Fri 29 June 2018
Benecio del Toro and Josh Brolin reprise their roles in this sequel to Denis Villeneuve's 2015 film Sicario. Emily Blunt and Villeneuve himself are absent from this one with Stefano Sollima taking over as director.
Day of the Soldado feels very much like a lackluster mid-season of a great television show. There's nothing here that quite reaches the border crossing scene from the first movie. In fact, without Blunt's naive and idealistic audience surrogate, we're left mostly relying on the mostly dirty Josh Brolin character to understand the setup of the movie.
Like before, the movie changes gears a couple of times between Brolin and del Toro's characters before ultimately ending with pure sequel bait. It's possible that if you really enjoyed Sicario you'll be happy enough just to spend some more time with these characters. If you're like me, it would be better to wait for that third movie to come so you can put it in immediately and get some more closure on the plot. Sicario was a movie that did not need a sequel. This movie hinges on getting one just to close this chapter.
Cal and I saw it in the theater and had a discussion in the car: