Life Itself – Movie Review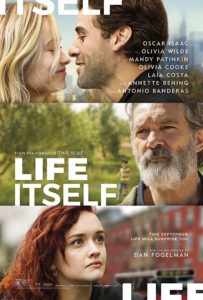 Life Itself – R
Release Date: Fri 21 Sep 2018
Note: This movie was reviewed again with video. Read that review here.
Director Dan Fogelman introduced us to the actors who had made the journey up to TIFF to be a part of this premiere. Oscar Isaac, who is ostensibly the lead actor, was absent due to a scheduling conflict. (He's shooting Star Wars.) But the vast array of cast members was mind-blowing. Olivia Wilde, Annette Bening, Mandy Patinkin and Olivia Cooke were all at the premiere!
Fogelman expressed his thanks to the cast for being part of a non-traditional story. One that takes a lot of experienced actors to pull off but does not make anyone a star – just part of a massive ensemble.
He was not wrong about this framing of Life Itself's unconventional story structure. The story is told in five breathtaking chapters focusing in on different people, cultures and motivations. The chapters are interconnected and none feel tertiary to the experience of the film itself.
Life Itself will probably make you laugh. And cry. And marvel at how shocking an April Fool's joke can be to someone unfamiliar with the practice. Highly recommended, and stay as in the dark as you can before seeing it.