Widows – Movie Review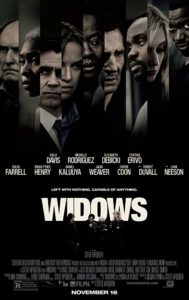 Widows – R
Release Date: Fri 16 Nov 2018
Director Steve McQueen (12 Years A Slave) co-wrote Widows with Gone Girl author Gillian Flynn. Given that pedigree, it should come as no surprise that Widows is a smart crime drama/thriller with plenty of plot twists and a host of well-written characters.
Widows also has a stellar cast led by Viola Davis (who was perfectly cast despite the part not being written for a fifty-something black woman.) Michelle Rodriguez, Elizabeth Debicki, Cynthia Erivo, Colin Farrell, Brian Tyree Henry, Daniel Kaluuya, Jacki Weaver, Carrie Coon, Robert Duvall and Liam Neeson are also in this movie, and most of them were at the premiere. Having not looked past the first few people in the cast, the sight of 87-year-old Robert Duvall showing up on a TIFF stage was mind-blowing.
Widows is a couple of things tied together effortlessly by Flynn and McQueen's screenplay. It's a story of the grief of the titular widows – women who lose their husbands in a single, explosive event. It's a thriller as the widows become embroiled in the criminal underworld their husbands crossed into – danger is at every turn. And it's a fantastic heist movie where the widows undertake to complete the next plan that one of the husbands leave behind.
I jokingly called it "the gritty reboot of Ocean's 8" because of the all-female heist elements. But the truth is, it's a better premise, story and execution than the Soderbergh heist movies. The characters aren't cool, overconfident one-liner machines. This feels more like something that could really have happened and the fear, anger and overall drama just adds to that realism.
Run, don't walk to see Widows as soon as you can.