The Happytime Murders – Movie Review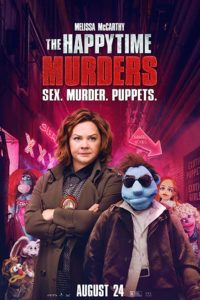 The Happytime Murders – R
Release Date: Fri 24 Aug 2018
Brian Henson directs this over-the-top comedy noir about puppet private eye Phil Philips (Bill Baretta) who has to team up with his former partner Detective Connie Edwards (Melissa McCarthy) to solve a string of murders surrounding the cast of a 1980's TV show.
My expectations for this were very, very low. From what little I knew about the movie beforehand, I was expecting something like The Heat with puppets. (For the record, I despise The Heat and Paul Feig's lazy directing.)
But The Happytime Murders won me over. The puppets are fantastic – this is, after all, the work of Jim Henson's son) and even though they're in the service of a comedy the immersion is so complete that you forget you're looking at hand-animated creatures. Melissa McCarthy is great with a good script and a character and she works well here as the main human character. But we go a good twenty minutes before we even meet her character. This does a good job of getting us really used to the puppets and makes the humans feel like a natural part of the world. (Maya Rudolph and Elizabeth Banks also appear in pitch-perfect roles.)
This movie's humor is not going to be for everyone. Like Team America before it, Happytime uses it's puppet cast to do some absurdly sexual things that would never fly with real people and still keep an R rating. It's all silly fun, but it might be a little uncomfortable to see with your grandparents.
If the idea of an over-the-top, sex, drugs and puppets movie sounds like your kind of jam, by all means give The Happytime Murders a try.