BlacKkKlansman – Movie Review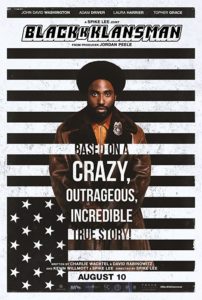 BlacKkKlansman – R
Release Date: Fri 10 Aug 2018
Spike Lee's BlacKkKlansman is an adaptation of a true story about a black Colorado Springs detective (John David Washington) who infiltrated the Ku Klux Klan with the help of a stand-in (Adam Driver.)
The movie is part biography, part comedy and part crime drama. The story pertaining to the main biographic elements of the detective is the central narrative focus. We meet Ron Stallworth (Washington) fully grown as he answers an ad to become Colorado Springs' first black police officer. His interviewers tell him that it's going to be a struggle. He'll be called names. They will have his back, but he will have to take a lot of… "guff."
Ron calls a number advertising more information about the Klan in a newspaper and pretends to be a white racist. He becomes the voice of the character with Flip (Adam Driver) keeping up with the story to portray the character face to face with the members and infiltrate the local chapter.
The facts of that story are fascinating, and the characters of Ron and Flip are fun to watch. This exposes one flaw of the movie: The characters seem extremely confident for the time and their situation. Flip is in direct contact with very dangerous men. Ron is also very exposed to reprisals from the Klan – and yet – apart from Flip's initial misgivings, much of the interactions are devoid of real tension. I did not know how the real events played out, but the movie never made me feel much fear from the characters.
My main complaint with BlacKkKlansman is it's refusal to allow viewer immersion. A speech early in the film is intercut with faces fading in and out of a composite like the Bohemian Rhapsody music video. It felt like the speech was being undercut by a screen saver. Later, during a conversation about movies, posters are slapped on the sides of the screen while the action continues in the remaining frame. Was the context of what they were talking about more important than character development? (They're also a mile away from the camera when this is happening.)
Overall though, this is one of Spike Lee's best films in years. It is unbelievably well done for it's miniscule budget (which is particularly hard on a period film.) I am glad that I saw it, I just wish I hadn't been so distracted by the mechanics and the seams showing in the final product.