If Beale Street Could Talk – Movie Review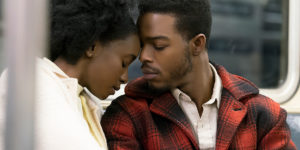 If Beale Street Could Talk – R
Release Date: Fri 30 Nov 2018
Barry Jenkins (Moonlight) directs this film starring KiKi Layne as Tish, a woman fighting to prove her fiance Fonny's (Stephan James) innocence and get him out of jail while pregnant with her first child.
Beale Street is a powerful story that is ultimately let down by it's unevenness. The first hour is dynamite; Meeting the characters, the situation that leads to Fonny's imprisonment, and the world's most awkward family meeting as Tish and her family (including her mother played by Regina King, father played by Colman Domingo and sister played by Teyonah Parris) try to explain to Fonny's father, mother and two sisters that their incarcerated son got Tish pregnant just before he was arrested.
But Fonny's family mostly disappears after this tragic/comic scene, and to a lesser extent, so do Tish's family as the movie starts becoming one scene of Tish visiting Fonny in jail after another.
This is not to say the ending is not an accurately unfair situation or an unsatisfying one. It's just that the growing sense of judicial lethargy around Fonny's case also leads to a similar lethargic feeling in the third act.
Still, I think it's worth seeing the new movie from the director of La La Land Moonlight.