Meeting Gorbachev – Movie Review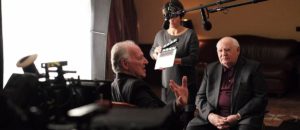 Meeting Gorbachev – R
Release Date: TBA
One of my bucket list items for attending a film festival would be the chance to see Werner Herzog talk about one of his films in person. With Meeting Gorbachev, I got that chance at the 2018 Toronto International Film Festival.
While Herzog shares the directing credit with Andre Singer, the movie feels like it was Singer's idea to put Herzog in a room with Gorbachev to get a much better result than he could have done otherwise. Gorbachev, who was ailing and hospitalized during filming originally gave them a single 1.5 hour session where he would sit and answer questions in a meeting room all while the very real threat of him not being up to talk on the day or a sudden health issue could stop the filming at any moment. It's a testament to Herzog's stature as an interviewer and filmmaker that Gorbachev ended up giving them three sessions; The final session being requested by Gorbachev as he found he had more he wanted to say.
The documentary is a fascinating look into Gorbachev's life, from his childhood in a poor farming village to his eventual ascension to what became the final president of the USSR. His role in everything from improving agriculture out of the ruinous ecological period following World War II to his brilliant statesmanship that led to nuclear disarmament by the USA and the USSR are highlighted in the film.
The Q&A was, unfortunately, questions from the audience to the directors with almost all of them coming across as somewhat combative. However, one question that elicited some insight was about how Herzog started the interview (and how the film begins.) Herzog makes a point of telling Gorbachev that while his early interactions with the German people were likely negative, that Herzog was immensely grateful in the role Gorbachev played in the reunification of Germany. Gorbachev, however, surprised him with his first memory of Germany being of a shop that sold German treats being his introduction to Germany and his first impression being that a country that could produce something so wonderful could not be all that bad.