Jurassic World: Fallen Kingdom – Movie Review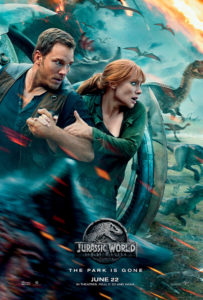 Hereditary – R
Release Date: Fri 8 June 2018
Chris Pratt and Bryce Dallas Howard return for this sequel to 2015's Jurassic World. The dinosaurs on Isla Nublar are endangered by an impending volcanic eruption and Claire (Howard) recruits Owen (Pratt) to try to save them.
If the whole "return to the island" plot sounds familiar, that's because it's been done before in Jurassic Park III. However, Fallen Kingdom does not stay on the same path for long with several surprising plot twists and locations. Unlike Jurassic World's exposition heavy first act that introduced the park, all the characters and the potential threats Fallen Kingdom briskly sets things in motion and keeps the momentum going throughout.
Fans of the first World film, myself included, will likely enjoy Fallen Kingdom. The movie smartly keeps violence just off screen much of the time, with sounds and reaction shots to paint a picture rather than gore. Jeff Goldblum and B.D. Wong make what amount to cameo appearances – don't let the trailers mislead you.
Cal and I saw it in the theater and had a discussion in the car: