The Single Moms Club – Movie Review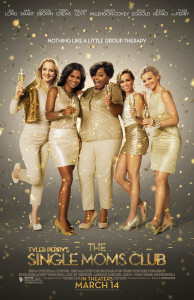 The Single Moms Club – PG-13
Release Date: Fri 14 Mar 2014
I was pleasantly surprised that The Single Moms Club, a movie written, directed and co-starring Tyler Perry feels more like a modern romantic/girlfriends-style comedy rather than a cloying, niche appeal comedy like the infamous Madea series. In fact, Tyler Perry's name will probably scare off more people than it brings to theaters, which is a shame as there's a well-executed story here with comedy that works, in a similar vein to something like Bridesmaids without ever crossing over into over-the-top comedy that Bridesmaids (and its male counterpart, The Hangover) got into. It's barely PG-13 territory and could probably run PG without losing more than a few minutes of the runtime.
The story follows five women who are forced to plan a school dance as a bizarre form of punishment for their children misbehaving at school. They discover that they are all single parents (for various reasons including divorce, separation and a sperm donor) and decide to form the titular Single Moms Club. The movie takes its time developing what the club actually is – eventually gelling into a rotating Friday-night party where one member watches all the children while the others go out. They also give each other advice and support.
While each of the "single moms" start as caricatures, they eventually get more depth as we get to know them a little better. Each has a fairly well-drawn arc even though Nia Long's Mae is the main protagonist (and love interest for Perry's Mr. Perfect character, TK.) The men are nothing more than plot devices, with the exes being uniformly unsavory and the new flames being uniformly cliched rom-com gentlemen. It's not distracting – the women are the focus here – and the movie is better for it, not straying into some kind of sexist message that these women all need men to be happy and solve their problems.
The end credits outtakes reel reveals just how much of the movie was done in ad-lib (it's a lot) and that's the only real knock on the comedy and pacing. Scenes that work are great. Scenes that only worked for a few seconds are abruptly cut, sometimes into the next scene. You can feel the editing around less funny lines as people feel out the improvisational spots and find something funny. There's a specific scene in the trailer where Amy Smart's character has a (supposedly innocent) conversation about building a set that involves a lot of sexual innuendo jokes. The version in the movie goes on for quite a while, but then we see an even longer version in the outtakes. Clearly, the editing was done right more often than not and the cast did a formidable job of adding humor to whatever script there was. Worth a rental, a date night or a girls' night at the theater.
Hannah and I saw it in the theater together and recorded a discussion in the car afterward: