Ready Player One – Movie Review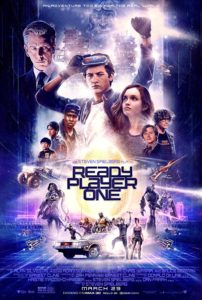 Ready Player One – PG-13
Release Date: Thu 29 March 2018
Stephen Spielberg directs this movie adaptation of Ernest Cline's bestselling book Ready Player One. Set in a dreary future, people spend most of their time in The Oasis, a virtual reality created by a legendary game designer. When he died, a new quest appeared in the game and the first to complete it wins his controlling shares in The Oasis.
The story follows Wade (Tye Sheridan) as he tries to solve the various riddles and mini-games necessary to win the contest. He makes some friends along the way in The Oasis and together they try to stop IOI, the corporation that currently controls The Oasis, from finding the solution first.
As a book reader, I understand the changes were necessary to make this less than a twelve hour movie. After a somewhat shaky start with a loud bombastic race, the movie improves greatly, rearranging many of the book's events to streamline the story. The major plot elements, characters and nostalgic references are still represented in the movie with necessary deviations.
We saw the movie in IMAX 3D, and with the majority of the movie taking place in the computer animated world of The Oasis this worked well. I would not recommend this to parents taking children too young to watch Stanley Kubrick's film "The Shining." It just barely avoids R-rated content.
Nathan, Amber, Aaron and I saw it in the theater and had a discussion in the car: