"Heaven Is For Real" – Movie Review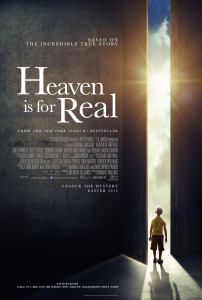 Heaven Is For Real – PG
Release Date: Wed 16 Apr 2014
The title and trailer seem to leave no question as to what this movie is about: believing in heaven. That's unfortunate as it will likely drive people away from seeing a foregone conclusion that they either agree with or not. I'm happy to report that there's a much better drama here than a four-year-old boy convincing his pastor father Todd (Greg Kinnear) that he actually visited heaven during an operation.
Todd and his son's story are based on a book written by the real-life Todd who continues to work as a pastor at his church in Nebraska. The film version follows a very clear three-act story structure, and it's hard to imagine it being a straight adaptation for the book. It works well as it is, with what looks like a set up for a kid that knows more than he can explain instead being a story of Todd's struggle to believe his son, make sense of his reaction and eventually reinvent his faith in a stronger, more humble fashion.
Margo Martindale is excellent as a church board member and mother of a son killed in the military. Her reactions are believable and heart-wrenching without it ever feeling like melodrama. The scene where she and Kinnear sit and talk on a bench was my favorite from the film. In the end, this isn't really a movie about a literal heaven as seen by a young boy. It's about our shared idea of community, support and love for one another. I can believe in that.
Hannah and I saw it in the theater had a discussion in the car: