Gone Girl – Movie Review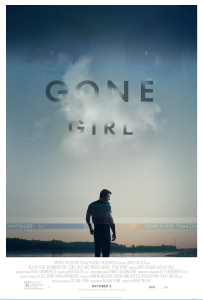 Gone Girl – R
Release Date: Fri 03 Oct 2014
Gone Girl is the film adaptation of the Gillian Flynn novel of the same name. It stars Ben Affleck as Nick Dunne, who may or may not have killed his wife Amy (Rosamund Pike.) The movie begins the morning that Amy disappears and despite his insistence on his innocence, things look more and more dire for Nick. He looks incredibly guilty but insists that he is not a murderer. Are things as bad as they appear – or worse?
Gillian Flynn's screenplay is a tight, faithful adaptation of the novel without falling into fan service territory. The pacing is outstanding, and although the movie may become unwieldy for some at nearly 2 1/2 hours in length, the constant twists and ratcheting suspense make the minutes fly by. It feels about 30 minutes shorter than it really is.
Given how important the structure of the book is to the unique take on the murder mystery, I was mostly concerned with how this would translate to the screen. Where the book uses alternating chapters to great effect, the movie does likewise with its scenes but keeps them incredibly brief and to the point. They weave together rather than work against one another.
The performances are stellar from Affleck and Pike with Carrie Coon's Margo and Kim Dickens' Det. Rhonda Boney also great, realistic characters. As is my custom, I will not spoil this wonderful plot in the written reviews. I enjoyed the book and seeing the movie adaptation was a delightful experience. Those of our group that hadn't read the book seemed to like the film just as much so the order in which you experience Gone Girl the novel and movie isn't as important a factor here as in other adaptations. I highly recommend both.
Aaron, Cal, John A. and I saw it in the theater and has a discussion afterward in the car: