They Came Together, Begin Again, Obvious Child – Movie Reviews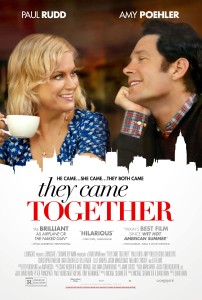 They Came Together – R
Release Date: Fri 19 Sep 2014
Wow! This hysterical send-up of romantic comedies stands as one of the funniest movies I've ever seen without qualification. The fact that it is a smart parody of romantic comedy tropes, constantly explaining itself and breaking the fourth wall just adds to the entertainment of it. It keeps you guessing throughout as to how far they will skewer the next beat of the cookie-cutter plot while consistently raising the stakes and never going into overboard gross-out humor. The movie earns its R-rating on language, but very expertly waits until the perfect moments to toss in a blink-and-you'll-miss-it profanity.
Amy Poehler and Paul Rudd play the romantic leads, Molly and Joel. The movie is framed by another couple asking how they met – a question they come to regret – as the entire movie is told as their answer to that question. The cast is incredible and includes big name comic actors like Ed Helms and Bill Hader to hilariously utilized dramatic actors like Christopher Meloni and Michael Shannon. It's a movie I've wanted to see for a long time – a competent spoof of the genre that does for romantic comedies what The Naked Gun did for cop-noir.
The film is in limited release and only showing on one screen in Kansas City, but thankfully is also available on-demand and you can likely find it and watch it right now. I highly recommend it!
Zak, Christian, Juliette and I saw it in the theater had a discussion in the car: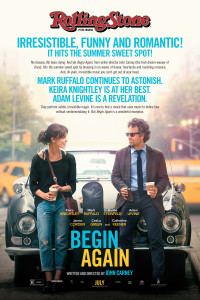 Begin Again – R
Release Date: Fri 27 Jun 2014
I saw a test screening of Begin Again a few months prior to its release when it was still titled "Can A Song Save Your Life." Apart from that wonky title, I really enjoyed the movie and saw it as a great movie with a bigger scope than writer/director John Carney's earlier film, 2006's Once.
Keira Knightley plays Greta, a songwriter whose relationship is on the rocks after her boyfriend (Adam Levine) leaves her for another woman shortly after signing a recording and touring deal. Dan (Mark Ruffalo) is a down-on-his-luck record label owner and producer who is having a terrible day until he hears Greta perform at a bar he is in, and creates an arrangement in his head for how he wants to produce it. He works to win her over to let him produce the album, and the movie explores their collaboration and their getting to know one another.
Dan has a wife and teenage daughter as well as a rocky relationship with his business partner at the record label. Greta is hurting about losing her boyfriend and not initially interested in staying in New York rather than returning home to England. The movie shows how people can often help themselves by helping others and how perspective sometimes requires a bit of an adjustment from without.
The film is a satisfying look at a successful collaboration and the beginning of a friendship between Greta and Dan. They both benefit from working with each other in personal and professional, but importantly not in a directly romantic way. The music is also consistently well done. I enjoyed the movie in both the test and official screening and recommend it.
Juliette, Christian and I saw it in the theater had a discussion in the car: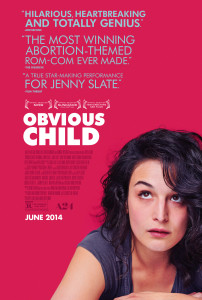 Obvious Child – R
Release Date: Fri 20 Jun 2014
I wanted to like Obvious Child, a movie that I expected to subvert the romantic comedy plot and set its story around a struggling comedian named Donna Stern (Jenny Slate) who becomes pregnant after hooking up with a nice guy but complete stranger. The trailer and the movie itself follow a pattern of Donna working through her life with quirky humor that comes across as a defense mechanism followed by scenes of her on stage pouring her heart out to the audience.
The honesty on stage isn't particularly funny, tactful or insightful. It's just honest and sometimes almost cruelly so. The defensive humor during the rest of the movie comes across as if it's either making light of all situations or never really letting us into what Donna is thinking so we feel just as lost and outside of what she's thinking as the other characters.
Her decision to get an abortion is immediate. Her friend is supportive. Her mother is supportive. The father is supportive – showing up with flowers and offering to go with her to the procedure. She lets him and they end up cuddled up on the couch watching Gone With The Wind.
I know there are people who appreciate this approach, tone and message (see the video review as Juliette's opinion is much more favorable than mine) but I'm not one of them. I felt that it trivialized what seems like a straightforward decision that, when faced with it in actual fact is anything but straightforward. I didn't need the movie to have her weigh her options on screen, but I would have liked to have seen it have some realistic effect on her. Apart from a couple of tears moments before the procedure starts, she doesn't cry. That feels really emotionally disingenuous to me.
I could also have lived with it if the movie were funny in either the standup or the rest of the performances but none of the humor really hit for me. The comedy was all pretty lame and tended toward "a girl using bathroom humor!?" that felt like discarded bits of early Sarah Silverman. I did not care for this movie nor can I really recommend it. The lack of comedy and authenticity in the subject matter was a wasted opportunity.
Juliette and I saw it in the theater had a discussion in the car: