Planes: Fire and Rescue – Movie Review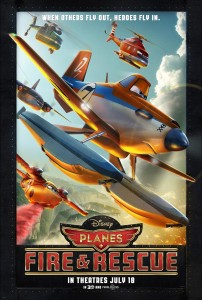 Planes: Fire & Rescue – PG
Release Date: Fri 18 Jul 2014
Planes: Fire and Rescue is the sequel to last year's direct-to-video Disneytoon movie that somehow got moved to a theatrical release. The sequel feels more like a proper theatrical film and feels less embarrassing than its predecessor to the Disney name.
Dusty Crophopper (voiced again by Dane Cook) finds out he has a broken gearbox that cannot be replaced and makes him unable to race again as he cannot fully push his throttle. This leads to him finding out that cropdusters can be modified to help fight fires. He goes to get certified as a fire fighting plane, which gives us a reason to transplant Dusty into a new setting and meet all new characters.
While the plot is very basic and the characters just as unremarkable as the first, it at least avoids most of the stereotypes both in its characters and location. Instead of going to India and having "sacred cow/tractor" jokes, we stick to one highly flammable area and our only borderline stereotyped character is a Native American helicopter. Yes, it's just as stupid as it sounds, but it beats the Frech Canadian, Mexican, Indian and other racing planes and locales from the 2013 Planes. The graphics also have a much-needed face-lift with much more detailed and animated backgrounds (flowing fields of grass and corn) versus the immobile placeholder backgrounds from before.
It's also nine minutes shorter and felt like a tighter, simpler story. What you expect to happen pretty much happens. There's no standout comic scene, and only one scene toward the end had any emotional resonance for the kids in the audience at our theater. But no permanent harm is done. Overall, this is a movie that will be enjoyable to the young viewers it was made for without being a total drag for whoever has to drive them to the theater.
Hannah, Matthew and I saw it in the theater had a discussion in the car: