Hercules – Movie Review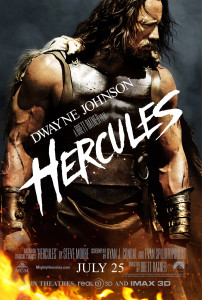 Hercules – PG-13
Release Date: Fri 25 Jul 2014
Dwayne Johnson has had some fun roles, particularly in Pain and Gain where he played an incredibly stupid bodybuilder turned criminal. In the title role of Brett Ratner's Hercules, it was only a question of how much fun it would be. Arnie may have the one-liners, but The Rock can deliver some solid subtle (and self-aware) comedy.
It turns out that the movie keeps you guessing throughout its length with a somewhat slow first act that doesn't quite give away the premise. In this movie, the legend of Hercules is the carefully cultivated myth that Hercules and his friends have propagated with a mix of lies, magic and other trickery. The movie then becomes a little more like the expected story as Hercules comes to the aid of John Hurt's king of Thrace and trains his men to fight.
There's a twist in the third act that tips the film's tone again toward the more heroic and I won't spoil it here. Suffice it to say, Hercules kept me guessing at it's plot and entertained by it's terrific battle sequences. The storytelling does an amazing job of always making you laugh just before it raises the stakes – far beyond what you'd expect from a movie about Hercules. A great popcorn movie for action fans.
Cal, Matthew, Jeremiah and I saw it in the theater had a discussion in the car: