Big Eyes – Movie Review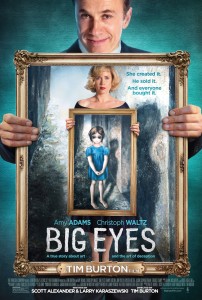 Big Eyes – PG-13
Release Date: Thu 25 Dec 2014
There are only a handful of movies that Tim Burton has directed that you cannot instantly tell is his work. From his frequent collaborations with actors, distinctive art direction and frequent use of Danny Elfman to do his soundtracks, there is an expectation of what you will see when Tim Burton is the director. This is not the case with Big Eyes. The movie does have great art direction, but it is put to use creating a wonderland of 1950's era California and Hawaii. Danny Elfman is here for the score, but that is also very different than the usual orchestral rhythms he is known for.
We're left with an intriguing biopic about Margaret Keane (Amy Adams), an artist whose identity is absorbed by a charlatan she marries in order to keep custody of her daughter. Christoph Waltz plays Walter Keane as a man always walking a tightrope between a charming facade and a monster's grin. It would have been easy to show his character descend in stages into being a threatening and dangerous liar. But we can always see it just below the surface.
Amy Adams is equally perfect in her role as Margaret, a talented woman who does the unthinkable (for the time) and leaves her husband in the opening moments of the movie. That she falls for Walter is sad but not surprising. Margaret is naive and Walter dominates her, but there's always a shred of herself standing up even if she's not yet ready to be rid of him. Adams has large, expressive eyes herself and I found the Tennessee accent she gives Margaret pushing a bit of extra grit. She could have easily dusted off her character from Junebug for the first two acts, but like Waltz's portrayal, all the pieces of her character are there. It's just a matter of time before she stands up for herself.
For viewers worried about such things, Big Eyes presents the threatening side of the relationship in verbal abuse and some smashed furniture. Neither Margaret or her daughter are shown being physically abused. This helps keep a tiny bit of sympathy for Walter – though mostly it makes him look like all the more of a buffoon when he ends up arrogantly representing himself against Margaret in court. I enjoyed Big Eyes, and think fans of Burton, Adams and Waltz probably will as well.
Hannah and I saw it in the theater and had a discussion in the car: