Maggie – Movie Review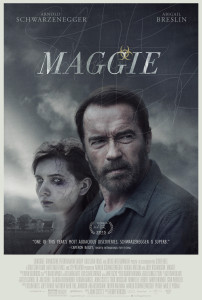 Maggie – PG-13
Release Date: Wed 06 May 2015
Maggie (Abigail Breslin) has been infected and is becoming a zombie. It's just a matter of time. She is watched closely by her father (Arnold Schwarzenegger) who cannot seem to choose between the heartbreaking options he has. Should he take her to be quarantined, put her on a cocktail of drugs that will buy her painful extra time, or just put her down himself.
The trailer and the top-billing of Schwarzenegger pull something of a bait-and-switch. This is not an action movie, nor is Schwarzenegger the central character. Unfortunately, this isn't clear until deep into the very slow paced second and third acts where we seem to just be waiting for him to decide on how her inevitable death will occur. All the development is actually going on with Maggie herself. She's physically changing. Her personality has trouble breaking through. She is an almost typical moody teenager in the beginning, but she begins to have to fight the disease that is taking control of her mind and body.
Watching it and waiting for the father to act was excruciating. It has an endless slow burn and there are several scenes that seem like a natural place for it to end with him euthanizing her. Even with the fair warning that this is mostly a muted drama with very little action and minimal horror (limited mostly to showing Maggie's deteriorating body), Maggie is still stretching a short film plot to 90 minutes.
Schwarzenegger is best when he is silent, with a look of exhaustion and sadness burning in his eyes. His dialogue, particularly when recounting his character's memories sound like he's just reading directly from the script. Breslin is great all the way through, and the makeup is well done throughout the stages of her metamorphosis.
Maggie's not a movie I can easily recommend as there just isn't enough to sustain the last half of the running time. I don't regret seeing it, but I'd likely have been just as satisfied watching the first half hour or so and then hearing someone explain the ending in a few sentences.
Hannah, Aaron, Amber and I saw it in the theater and had a discussion in the car: