A Walk in the Woods – Movie Review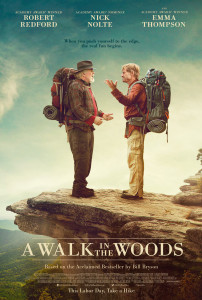 A Walk in the Woods – R
Release Date: Wed 02 Sep 2015
Author Bill Bryson (Robert Redford) returns to the US after a few decades in England with his wife (Emma Thompson.) He decides on a whim to hike the Appalachian Trail, a massive and daunting trip from Georgia to Maine. After exhausting a list of friends to invite along, he receives a call from Stephen Katz (Nick Nolte) asking to go along.
The film follows their trek as they buy supplies, have encounters with hiking hipsters and gently poke fun at each other. While it's always great to see Redford on screen, and Nolte has more to do here than he has for a long time the movie feels much more like a series a brief, unconnected sequences than a single story. That extends to what end up being little more than cameos for Mary Steenburgen, Nick Offerman and Kristen Schaal. The lack of any kind of twist makes this feel like the world's slowest adaptation of Plains, Trains and Automobiles.
It's a road movie in the way the sequences are mostly disconnected and the real arc is whether they will finish the hike and remain friends. It's not a terrible or boring movie by any means, but it is very deliberately slow-paced. I can see where older audiences might identify more with the characters and get more out of it. It's rated R mainly for language, as Nolte's character starts the hike dropping f-bombs all over the place. It's a strange choice in an otherwise warm and friendly movie, but feels more authentic than leaving it out.
I would probably enjoy A Walk In The Woods best as something that's I'm only half-watching. It would be hard to miss the important parts and easy to tune out of scenes that don't really go anywhere.
Cal and I saw it in the theater and had a discussion in the car: