Crimson Peak – Movie Review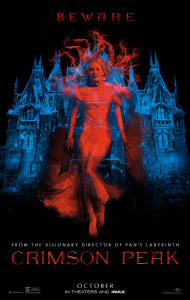 Crimson Peak – R
Release Date: Fri 16 Oct 2015
Crimson Peak is a drama with fantasy and horror elements directed by Guillermo del Toro. It tells the story of Edith (Mia Wasikowska), an aspiring author whisked away by Thomas Sharpe (Tom Middleton) to live in a dilapidated mansion along with Thomas' sister Lucy (Jessica Chastain.) Edith's friend Dr. Alan McMichael (Charlie Hunnam) is concerned that something seems off about Thomas and Lucy and tries to ensure that she is not putting herself into danger.
The visuals are the strongest aspect of Crimson Peak; Everything from the costumes to the giant, menacing house and of course the creature effects are very well done. It is not a spoiler to say that this movie contains unsettling ghostly apparitions – they are in the movie from the very first scene. What's confusing is that the trailers have made this out to be a traditional haunted house story where the heroine must brave the spirits to find out what happened in the house.
Instead, as the first scene tries buy isn't quite able to make clear, Edith is already in tune with the spirits around her. She's not a friendly medium, speaking to the ghosts as friends, but she does not fear them either. This makes a good section of the movie feel unnecessary. She spends a lot of screen time wandering the house by candlelight and regularly encounters the movie's interpretation of ghosts (monstrous, monocrhomatic visions) and they serve more as visual clues to Thomas and Lucy's past.
Incidentally, this is the movie Charlie Hunnam had committed to before Fifty Shades of Grey and is the reason he had to drop out of that movie. Hunnam had previously worked with director del Toro as the lead in Pacific Rim.
As long as your expectations are a drama where a very bold young woman uses visions of ghosts to help solve the mystery of the Sharpe siblings' past, Crimson Peak is a very pretty if meandering movie. It barely qualifies as horror in my estimation and is more of a riff of Jane Eyre with an extra-spooky atmosphere.
Amber, Aaron and I saw it in the theater and had a discussion in the car: