Steve Jobs – Movie Review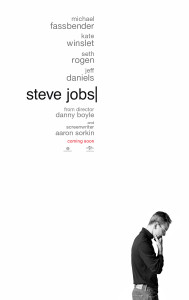 Steve Jobs – R
Release Date: Fri 23 Oct 2015
Steve Jobs is directed by Danny Boyle and written by Aaron Sorkin based on the book of the same name by Walter Isaacson. It stars Michael Fassbender as Steve Jobs, the storied co-founder of Apple Computers and dramatizes his life events around the launches of three products – the Macintosh, the NEXT cube and the iMac.
Sorkin's story feels a little more fictionalized here than in The Social Network because the movie makes a very smart decision to set itself in the pressure cooker of Jobs getting ready for the three product launches. Backstage at each of these events, dozens of people are pleading and attempting to persuade him. "Can we cut this problematic part of the demo?" "Your illegitimate daughter and her mother are on welfare while you are worth hundreds of millions of dollars." Sorkin never feels particularly real though, and this structure works very well to give us glimpses into the personal and professional life of Jobs.
The performances are great across the board. Fassbender transforms well into Jobs, walking the line between revered, sharply funny genius and the unforgiving, dictatorial jerk that make up Jobs' oeuvre. Kate Winslet plays Jobs' assistant Joanna Hoffman who is at times his gopher, his mother and his best friend – sometimes in a single scene. Jeff Daniels does a great job of humanizing John Sculley, the oft-maligned former PepsiCo exec who famously fired Jobs leading to Apple's near-bankruptcy in the 1990's. Seth Rogen is perfect as Apple co-founder Steve Wozniak, pulling off Woz's usual almost cowed demeanor even though he never actually seems to fear Jobs. Their encounters mainly just end with Wozniak disappointed but supportive and build to a great standoff that is probably the strongest scene from an acting standpoint if not for the story which looks for it's emotional core in Jobs' relationship with his daughter Lisa. Lisa appears as three different actresses as she is 5, 9 and 19 at the three periods shown. All three Lisa actresses make their mark and it's especially impressive how good the younger actresses are in short but memorable scenes.
Steve Jobs is not a documentary or a straight biography. It plays fast and loose with timing to wring some extra drama out of its story, but there is nothing here that feels unnecessarily forced or faked. The script even jokes about how everyone seems to want to talk to Jobs in the busiest hours of his life. It's self-aware of it's license with timing and facts but it still works and an engrossing, expertly paced movie that I can recommend to viewers regardless of their level of interest in Steve Jobs himself. I highly recommend seeing it.
Aaron, Cal, Matthew and I saw it in the theater and had a discussion in the car: