The Night Before – Movie Review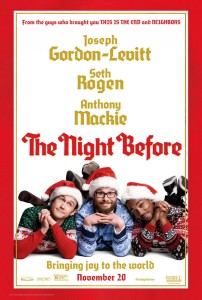 The Night Before – R
Release Date: Fri 20 Nov 2015
Three friends get together to celebrate their Christmas tradition one final time. The tradition was started as a way to cheer up Ethan (Joseph Gordon-Levitt) after his parents died. However Isaac (Seth Rogen) is about to become a father, and Chris (Anthony Mackie) has become "too famous" as he suddenly became a major talent in the NFL.
The Night Before was a good surprise after it's trailers made it out to essentially be "The Hangover: Christmas." While Isaac's drug bender is in the film, it's not the focus. All of the three men have separate subplots and, if the movie has just one protagonist it's Ethan.
The Night Before uses it's R-rating for a funny male nudity sequence that has a great eventual payoff. There are a host of supporting characters that are surprisingly brilliant and funny. My favorite is the group's drug dealer, but I won't spoil the fun of the surprise.
Much like Planes, Trains and Automobiles, The Night Before feels like a new movie tradition that you can watch with multiple generations and not be embarrassed by. It also speaks in the language of Christmas movies with homages and references from It's a Wonderful Life to Die Hard.
I recommend catching it in a crowded theater as it's a crowdpleaser and a satisfying comedy.
Aaron and I saw it in the theater and had a discussion in the car: