Sully – Movie Review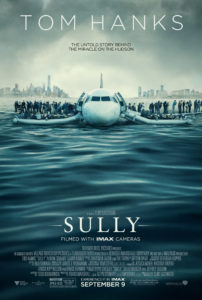 Sully – PG-13
Release Date: Fri 09 Sep 2016
Clint Eastwood directs this biographical drama about Chelsea "Sully" Sullenberber (Tom Hanks) performing an emergency water landing of a commercial aircraft on the Hudson River. The movie is based on the actual events and the book written by Sullenberger.
It can be hard to draw an entire movie's worth of drama from a flight that lasted less than five minutes, and Sully wisely keeps it's action in multiple flashbacks rather than a strict chronology. This story is focused on Sully's internal struggle and doubt in the time between the crash and the findings of the National Transportation Safety Board. They begin to plant seeds of doubt about his actions as pieces of information come in. Computer simulations claim he could have safely returned to the airport and landed. He replays it in his head and wonders.
Only the narrative structure is close to being a surprise as most people know the basic details of the story and the eventual outcome. Tom Hanks does a better than usual job disappearing into the role, with his co-pilot (Aaron Eckhart) getting some of the more lighthearted and funny lines.
The movie lasts exactly as long as it can and no more. It's going to have broad appeal and be watchable by all ages and demographics; a good movie to take your parents to.
Nathan, Cal and I saw it in the theater and had a discussion in the car: