The Founder – Movie Review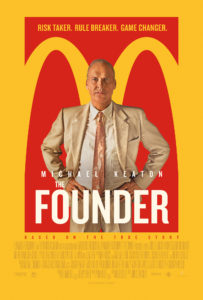 The Founder – PG-13
Release Date: Fri 20 Jan 2017
Michael Keaton stars as Ray Kroc, the "founder" of McDonalds. The movie follows the true story of how Kroc discovered the McDonald brothers' breakthrough in fast, quality food and built it into an empire. They are extremely conservative and retain control over how the stores work which leads to Kroc gradually cutting them out.
The brothers are a great two-man team of the "brain," Dick McDonald (Nick Offerman,) and the "heart," Mac McDonald (John Carroll Lynch.) You can feel their pride in what they've built and their tenuous faith in Kroc – or at least their belief that they can control him.
Though the story of how the McDonald brothers were pushed out of the business they started by a desperate salesman is a fairly well-known one, the performances and the way the movie builds everything to a fever-pitched breaking point makes it very entertaining despite knowing the broad strokes of the outcome.
The Founder is another winner for Michael Keaton and a fascinating look into the beginnings of an American institution.
Aaron and I saw it in the theater and had a discussion in the car: