Baby Driver – Movie Review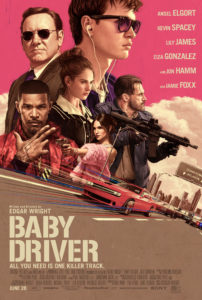 Baby Driver – R
Release Date: Fri 28 Jun 2017
Baby Driver is the new action/crime movie from writer/director Edgar Wright. Ansel Elgort stars as Baby, a getaway driver working off his debt to shady mastermind played by Kevin Spacey.
I have to say right away – my expectations were off on this one. I was expecting something more like a dark comedy akin to Wright doing a riff on Elmore Leonard. Baby Driver is much more grounded in reality with its characters. While not devoid of any humor, it is certainly not the main ingredient.
This allows the movie to have some real stakes by the end as named characters get into very real trouble. Lily James, Jamie Foxx, Jon Hamm, Eliza Gonzalez, CJ Jones, Jon Bernthal, Flea and Kevin Spacey are all great, but this is squarely Elgort's movie. Baby manages to be more than just the gimmick shown in the trailers. The gimmick is more of an excuse for Wright to build every scene and edit around a fantastic musical score; Baby needs music to drown out tinnitus caused by a childhood car accident.
Fifteen years ago, Wright directed a music video that was built around a getaway driver (Noel Fielding) using a song to time how long until the robbers returned. You can watch it and see hints of the first scene.
Overall I enjoyed Baby Driver and will probably enjoy it more on additional viewings.
Nathan and I saw it in the theater and had a discussion in the car: