Justice League – Movie Review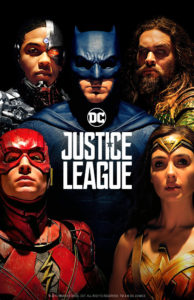 Justice League – PG-13
Release Date: Fri 17 Nov 2017
When an alien invasion threatens Earth, Batman and Wonder Woman recruit The Flash, Aquaman and Cyborg to team up and battle as the Justice League. Ben Affleck and Gal Gadot reprise the roles of Batman and Wonder Woman respectively. Ezra Miller is The Flash, Jason Momoa is Aquaman and Ray Fisher is Cyborg.
For a production plagued with problems, Justice League manages to wobble but never quite buckle into the uncomfortable mess that was Batman v Superman or the deeply flawed Man of Steel. While people will no doubt debate how much Joss Whedon's rewrites and reshoots improved Zack Snyder's original vision, the end product feels like it miraculously worked out okay.
The movie is a packed two hours. Fans are likely to see some kind of extended release on home video, but for this theater-goer, the length was perfect. It was enough time to get a feel for the new characters introduced and the arc of the Justice League finding its footing.
The all-CGI completely unremarkable villain was lame, but lame in the same way that a lot of these super-hero team up movies require to allow us to focus on the heroes' dynamic rather than a more complex villain plot. (He wants to destroy the Earth! Can you believe it?!)
Justice League will entertain a broad audience of popcorn moviegoers and probably a good number of comic fans too. But it's hard to ignore that it's nothing particularly new and exciting. If this were a Marvel movie, it would be one of the more forgettable ones. After Batman v Superman, it's a solid enough new foundation.
Aaron and I saw it in the theater and had a discussion in the car: