Anomalisa – Movie Review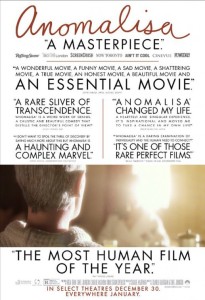 Anomalisa – R
Release Date: Fri 01 Jan 2016
Anomalisa is an animated comedy/drama written by Charlie Kaufman. It depicts a middle-aged man named Michael Stone (voiced by David Thewlis) living in a world where literally everyone else has the same voice (Tom Noonan.) That is, until he meets Lisa (Jennifer Jason Leigh) who has a unique voice.
The hypnotic stop-motion animation of the movie strangely makes the movie work on a level it couldn't have as live action. Hearing Tom Noonan's voice coming from female characters is weird, but since no one in the movie seems to realize it, we go along with it. Is that really the reality of Anomalisa's world, or is it the central metaphor for Michael's boredom with his life and his infatuation with Lisa.
As the festival movie I've been most anxiously anticipating most of the last year, Anomalisa did not let me down. The humor, drama and message of the movie are fantastic and I wouldn't spoil a line of it. Go see Anomalisa!
Aaron and I saw it in the theater and had a discussion in the car: