Locke – Movie Review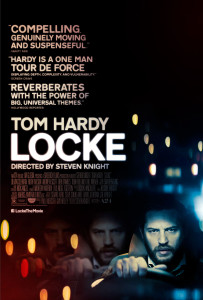 Locke – R
Release Date: Fri 11 Apr 2014
Locke is a movie built around a conceit of taking place entirely within Ivan Locke's (Tom Hardy) car. It is mostly in real-time and the other characters in the movie are never shown but instead heard through the Bluetooth system of his BMW. We first saw the trailers a month or so ago and teasingly dubbed it "Bluetooth: The Movie" with the hopes that Tom Hardy could make the premise work by the presence of his performance and the potential intrigue of what exactly he's running away from.
Unfortunately, the dozens of phone calls that comprise the three main aspects of his life don't lead to anything very conclusive or unexpected. Hardy's performance is very subdued and in some cases he seems to fail to react to an incoming call other than to take an extra few rings to steel himself before answering. Film is a visual medium, but the majority of this film is told rather than shown including a couple of bizarre conversations Hardy has with his dead father who is never shown, but Hardy addresses him in the rearview mirror as if he were in the back seat.
There's nothing wrong with the concept of a drama or thriller taking place in a small, contained space and I can understand the appeal for Hardy as an actor to carry the entire film on his performance. Unfortunately once we know the whole situation we never get any reason to stay invested and the writing seems to just tread water until an abrupt end credit sequence.
Zak, Cal, Jeremiah and I saw it in the theater had a discussion in the car: