Million Dollar Arm, Legends of Oz: Dorothy's Return – Movie Reviews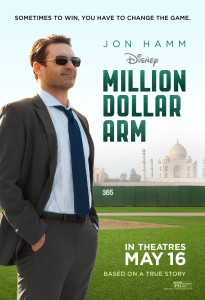 Million Dollar Arm – PG
Release Date: Fri 16 May 2014
Jon Hamm stars in this sports story based on real events where a sports agent goes to India to convert two cricket bowlers into Major League Baseball pitchers. That is the trailer's pitch, and it is what the movie delivers. The performances are all very good from a lot of likable people: Hamm, Alan Arkin, Aasif Mandvi, Lake Bell and Bill Paxton among them.
The pacing seems very slow, and it feels like the movie may end up being about finding the players themselves. Then it becomes about Hamm's character realizing he's kind of a jerk and to take care of the young men in his charge. Lake Bell's Brenda flat out tells him this, yet it seems another twenty minutes go by before he accepts it and allows the movie its guaranteed happy redemption ending.
While this isn't a movie that's particularly great or one that I would recommend, it's also completely harmless family viewing. Our audience seemed to like the scenes between Hamm and Bell the most, and for good reason. Lake Bell is fantastic in the role and more than holds her own with the charismatic Jon Hamm. I just could have done without 20-30 minutes of the bloated 124-minute runtime.
Zak and I saw it in the theater had a discussion in the car:
Legends of Oz: Dorothy's Return – PG
Release Date: Fri 09 May 2014
This movie has garnered something of a nasty reputation as a "direct-to-DVD" project that was theatrically distributed at the last minute. (This same phenomenon is why the original Disney Planes movie was theatrically released.) While the focus has been adults knocking on the sub-par CG animation, the real problems with this movie are in its utterly disposable characters and story and it's awful lyrics to mostly bad songs.
We start with the Scarecrow (Dan Aykroyd), Lion (Jim Belushi) and Tin Man (Kelsey Grammer) desperately fending off flying monkeys as they use a rainbow machine to warp Dorothy (Lea Michele) back to Oz. Dorothy sings a bland song about trying to fix up her family farm in the wake of the tornado. The villain's Kansas analog "The Appraiser" (who in Oz is The Jester, both voiced by Martin Short) shows up to condemn the house. The Appraiser's arrival is in the form a a cartoonish, physics defying pink car that lunges into their driveway both as they arrive and depart. In this way, both Kansas and Oz are the same style – anything can happen and frequently does. This makes Oz feel less magical and more like just another location in the same world as Oz.
Young kids will likely enjoy the movie just fine. There are a few good puns, particularly in a candy courtroom. But other than the runtime of the movie I can't see kids getting invested in the film as a franchise. Martin Short gets the most mileage out of his character, but also gets the worst song of the film: an abysmal song about candy sung by a spectral floating head that the audience can see but Dorothy cannot. The other new characters aren't quite as forgettable as those introduced in Return to Oz thirty years ago, but they're still undercooked. Oliver Platt plays Wiser the owl who is fat and has feathers that look like a Cosby sweater. Hugh Dancy's Marshall Mallow falls for Megan Hilty's China Princess. Bernadette Peters is Glinda for a few lines, Patrick Stewart is a tree-turned-boat-turned-battering ram that goes by Tugg (and then Tank.) I found Aykroyd's Scarecrow voice obnoxious but the others were just fine. Most of the voice cast, particularly the marquee names sound like they spent a day at most in the vocal booth.
This is a movie that adults will tolerate and children will consume and forget quickly. In other words, a direct-to-DVD style animated feature that somehow was shown in theaters.
Zak and I saw it in the theater had a discussion in the car: