About Last Night (2014) – Movie Review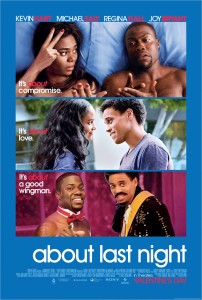 About Last Night (2014) – R
Release Date: Fri 14 Feb 2014
The remake of the 1986 film adaptation of David Mamet's play "Sexual Perversity in Chicago" sees a location change to Los Angeles and a lead cast of black actors. The movie doesn't have the Mamet trademark dialogue of interruptions and half-finished sentences.
Unlike the 1986 film, the Bernie and Joan characters have a relationship as well as the leads. This works here, with Kevin Hart's version of Bernie being a more likable loudmouth than the Jim Belushi's male chauvinist. The problem with this film is that it cannot quite decide if it wants to be a raunchy comedy or a heartfelt romance. In the end it plays it safer than comedies like American Pie or There's Something About Mary which both went for the laughs and trusted the audience to buy the romance as part of the package. The melodrama of the cliche breakup and makeup eat up more screen time than necessary without really adding anything new to the formula.
The only downright negatives to an otherwise harmless story are some consistent and troubling anti-gay sentiment (such as using lesbian as an insult) and the truly stupid scene where people in the film happen to be watching the original "About Last Night" movie. It ends up being a little silly rather than getting a lot of laughs, and a little romantic rather than downright sexy. It's release on Valentine's Day and four black lead actors should tell you exactly what you're getting: a safe, forgettable by-the-numbers romantic comedy for people who want to know exactly what to expect.