The Walk – Movie Review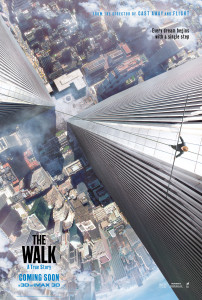 The Walk – PG
Release Date: Fri 09 Oct 2015
The Walk is directed by Robert Zemeckis and stars Joseph Gordon-Levitt as Philippe Petit; A man who famously (and illegally) set up a high wire between the two towers of the World Trade Center and walked across it.
My biggest question going into the movie was how this plot could sustain an entire movie (123-minutes) with a premise that we already know the outcome. I was pleasantly surprised by how the movie takes it's time going into Petit's childhood and early days in Paris. He is begrudgingly taught by a senior wire walker (Ben Kingsley) who comes the closest of anyone in the film to matching Gordon-Levitt's exuberant transformation. Once the movie gets to New York, it becomes a heist – an Ocean's Eleven style crew brought together to watch the shifts at the towers and figure out when and how to pull off rigging the wire for Petit's walk.
And finally, there is the walk itself which is completely breathtaking. The visuals, the narration and the stunning use of 3D make the actual walk an extremely tense climax to the movie. We saw it in IMAX 3D and this is the perfect movie for that format. If your concern is that you think you've seen this movie if you've seen the trailers, I'm happy to report that is far from the case. Treat yourself to this masterful film in the full IMAX 3D experience.
Aaron, Cal and I saw it in the theater and had a discussion in the car: