Rio 2 – Movie Review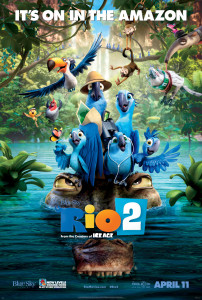 Rio 2 – G
Release Date: Fri 11 Apr 2014
Rio 2 is the sequel to Blue Sky Animation's 2011 movie Rio. While that film didn't seem particularly popular in the United States, it managed to bring in enough to cover 150% of its budget worldwide. That led the studio and its parent Twentieth Century Fox to try and build a new franchise as they had in the past with Ice Age. Where Ice Age centered around a small group of well-characterized and voice acted portrayals from comics Ray Romano and Denis Leary, Rio seems to use a kitchen sink approach to casting and storytelling that relies mainly on slapstick and motion to keep its audience engaged. Ice Age had a smile or two for adults – Rio is all flash and no substance.
The central plot of Rio 2 is the nuclear family of Blu (Jesse Eisenberg), Jewel (Anne Hathaway) and their three kids journeying from their home in Rio (bye-bye, place the movie is named after!) to see if there are truly more Spix Macaw in the Amazon rain forest. Blu is reliant on human inventions including wearing a fanny pack full of tools, including a full electronic GPS. When they find the flock of Spix Macaws led by Jewel's lost father, Blu has to decide whether to give up his human-centric tendencies or convince the flock that not all humans are bad. Cue the loggers and Blu's human friends showing up to stop them to demonstrate that part and show everyone that Blu's unique perspective is worth having. Then there's a cockatoo and a tree frog coming after Blu for revenge. Plus a talent show audition being run by characters voiced by Jamie Foxx, wil.i.am and George Lopez. Tracy Morgan voices a dog who shows up for a couple of scenes.
For all of these characters and subplots jammed in with nearly constant slapstick action, there's no real emotional hook to be found. We never feel particularly sad for Blu as he doesn't seem to stop to notice that he's being under-appreciated. None of the movie's villains are remotely dangerous because nothing has much consequence in this world. This is probably the price paid for a rare "G-rating" in 2014, where a little bit of danger and tension would have improved things but resulted in the movie being PG.
From a visual standpoint, the character design and colors are well crafted and the animation is competent but the entire film seems oddly composed as if it never aspired to more than animate from 2D storyboards. For a CG animated 3D movie presented in 3D, not one sequence managed to use flight, the jungle environments or the sights of Rio as a visual ride. The two most visually interesting sequences are still strangely flat; one is a soccer game played by birds in flight that never achieves the verticality or adrenaline of the Harry Potter films' Quidditch games and a sequence where birds form beautiful geometric patterns in flight is shown from a great distance as a single overhead shot.
In other words, there's no compelling reason to see this movie's visuals in 3D. And for everything it threw at the wall, literally nothing stuck. I occasionally smiled at the villainous cockatoo, but only because I found myself wanting to "stop them" myself. In a year with great animated films like The Lego Movie and Peabody and Sherman, it's hard to recommend a filler movie like Rio 2 for anything more than a time-waster for a long trip in the back of the family van.
Hannah and I saw it in the theater had a discussion in the car: