Under The Skin, Dom Hemingway – Movie Reviews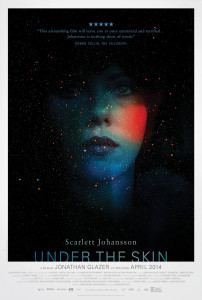 Under The Skin – R
Release Date: Fri 04 Apr 2014
When I found out that Under The Skin was not going into wide release right away I was disappointed. When I saw that it was only opening on one screen in Kansas City, I became concerned. I need not have been troubled by these signs. Director Jonathan Glazer and star Scarlett Johansson had my attention and held it without ever really explaining what I was seeing.
None of the characters in this movie have names. While Johnsson's character is the focus, we never hear her thoughts. The synopsis tells us she is an alien preying on hitchhikers. But why? We never really know, but those answers wouldn't be nearly as satisfying as trying to work out all the machinations going on in these long, beautiful scenes. She seduces men whose families will not miss them. But she learns something – is it empathy? Love?
A good abstract movie is entertaining even while it's confusing. My personal gold standard of this is David Lynch's Mullholland Drive. You don't know for sure why things are happening, but you're intrigued and entertained. This movie succeeds on the intriguing front though not always on the entertainment front. A movie this quiet, ambient and thoughtful won't hold everyone's attention. But for those who, like me, will gaze in wonder and try to see the prospective interpretations that seem just out of frame, they'll be thinking about this movie long after the credits roll. See this one with an open mind on a giant screen if you possibly can.
Juliette, Zak, Christian and I saw it in the theater had a discussion in the car: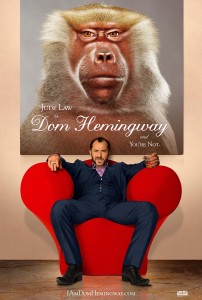 Dom Hemingway – R
Release Date: Wed 02 Apr 2014
Now THIS is how you make a raunchy, R-rated comedy! Jude Law is the crude, "drunken superhero" Dom Hemingway – a loudmouth criminal who served a 12 year sentence rather than rat out his boss. This sets the stage for his triumphant return from prison and a celebratory victory lap that involves sex and drugs galore.
The movie follows a very simple underlying structure of a comedy redemption story with Dom trying to repair his relationship with his estranged daughter and grandson. This never gets too far into drama territory, it just gives us something to hope for our misfit hero. To realize that family and friends are more important than money and the trappings that come with it.
This movie is funny from beginning to end and I cannot recommend it highly enough. If you want an over the top, raunchy crime comedy with a stellar lead performance from Jude Law, look no further.
Juliette, Zak, Christian and I saw it in the theater had a discussion in the car: