A Walk Among The Tombstones – Movie Review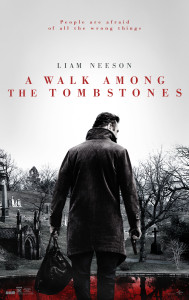 A Walk Among the Tombstones – R
Release Date: Fri 19 Sep 2014
Liam Neeson has made a niche for himself for playing flawed but honorable heroes up against incredible odds. A Walk Among the Tombstones doesn't give him the kind of untouchable advantage of something like Taken, but whether you want to call it typecasting or character shorthand, Neeson owns this role and is a joy to watch.
The opening scene in 1991 is beautifully shot and edited to make the credits feel like an event. The majority takes place in 1999, emphasizing the rarity of cell phones and the impending fear of Y2K. Matt Scudder (Neeson) left the police force and alcoholism after a tragic accident in 1991. He is approached by a devastated man whose wife was kidnapped. After paying the ransom, the kidnappers killed her anyway. Now he wants Scudder to find the killers and bring them to him. Scudder is apprehensive about working for a drug dealer, but after investigating the circumstances he discovers similar murders and decides to take the case after all.
There are some interesting twists and turns, but the best scenes tend to be Scudder on the phone with the kidnappers. It's amazing how much fun that still is to see. The ending has a light twist with an abrupt conclusion that left the movie feeling a little more disposable than it really needed to be.
The movie has a little added heart from a subplot involving TJ, a kid Scudder befriends and helps along the way. I also really enjoyed David Harbour playing against Neeson. If you're into this kind of movie, you'll likely enjoy it but remember little of the details after a few hours.
Aaron, Cal and I saw it in the theater and has a discussion afterward in the car: