Think Like A Man Too – Movie Review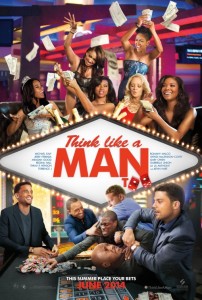 Think Like A Man Too – PG-13
Release Date: Fri 20 Jun 2014
Think Like A Man Too follows a very safe route for a sequel that doesn't have the benefit of source material to draw from. The well of Steve Harvey's book "Act Like A Lady, Think Like A Man" was mostly dried up by the first film. Instead we get a rote story with a great cast and high production values.
Each couple starts the movie with a problem they can't communicate effectively – whether or not to have children, how to ask the spouse to move for a career opportunity, etc. These are set up for a couple of obvious second and third act beats that make the problems transparently manufactured. Only in a romantic comedy does a rough night in Vegas teach you more than a simple conversation with your significant other.
The ladies get the best comedy moment in the movie – a scene that I won't spoil and that goes on for longer (and works) than you expect it to. Kevin Hart is unfortunately only allowed to be in manic/panic mode and he screams his lines and much of the narration. When the movie is getting started, it works. When he's explaining a tender moment or a dramatic low point, it feels like lowering the stakes. It always sounds like a joke is around the next corner even when it isn't.
As sequels go, this movie has a few good laughs and nothing terribly insulting to the audience's intelligence. It's not going to be the comedy you remember from 2014, but it's a good show with some great people and a few clever ideas.
R.C. and I saw it in the theater had a discussion in the car: