Angry Video Game Nerd: The Movie – Movie Review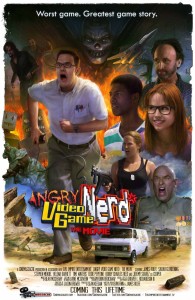 Angry Video Game Nerd: The Movie – R
Release Date: 2014 (VOD or Purchase from Vimeo)
2014 has seen the release of three movies funded (at least in part) via crowd funding: Veronica Mars, Wish I Was Here and now Angry Video Game Nerd: The Movie. By far the smallest of these, Angry Video Game Nerd: The Movie transitions the Internet phenomenon created by James Rolfe to the big screen on the relative shoestring of $325k. Rolfe has been working on the movie for several years, keeping eager fans intrigued with details on the movie's progress and managing to squeeze out additional content during the grueling schedule.
So does it work? As a fan of the Angry Video Game Nerd character and Rolfe's work in general I had impossibly high hopes for what an AVGN movie would turn out to be. The movie eschews the traditional episode structure for a narrative approach placing The Nerd in a fictionalized version of our world. The movie is ostensibly about The Nerd setting out to remove the mythical status of the infamous "worst video game of all time" and try to keep his fans from playing the very bad games he is trying to warn us about. (The game is "Eee Tee," a copy in everything but copyright of Atari's famous bomb "ET.")
There have always been over-the-top sketch comedy in the AVGN episodes, and here it is left to carry much of the movie. Early on, many jokes (many recycled from episodes) got approving laughs in the audience. By the second act the growing amount of invented conspiracy theories and unexplored or uninteresting character motivations made it hard for the new characters to be terribly memorable. Cooper (Jeremy Suarez) is The Nerd's sidekick and a nerd in his own right. Mandi (Sarah Glendening) works for video game publisher Cockburn Inc., and is trying to get the Nerd to review (thereby endorse) their sequel to the "worst game of all time." Mandi originally bothered me in the trailer as she looked like a not ironic trope of "the cute girl with glasses is a nerd." Thankfully, this is addressed in the movie itself.
By the third act, things come back onto the rails delivering a satisfying conclusion to the story and the vision of writer/directors Kevin Finn and James Rolfe. We get some truly silly Godzilla-like monster battles and effects. (Cue the soldier falling into a fountain via purposefully-bad editing that doesn't even splash.) And, more important, we finally get The Nerd talking about that "worst game."
The movie will be most satisfying to fans of the series, but is also a great example of a filmmaker getting to do something on a larger scale and budget. Rolfe is a talented guy and it's neat to see him get to do something he's dreamed about and worked hard to achieve. Those who find the series sophomoric and unwatchable need not apply.
Malcolm, John and I saw it in the theater had a discussion in the car: