Get On Up – Movie Review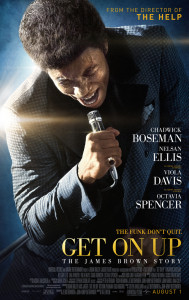 Get On Up – PG-13
Release Date: Fri 01 Aug 2014
Get On Up is a breathtakingly-realized masterpiece. From the performances to the storytelling to the music to the ability to present the legend, warts and all so completely this is a marathon of awesome from start to finish.
Chadwick Boseman's performance as James Brown deserves Best Actor several times over. Once for acting, once for the musical performances and once more for the staggering personification of James Brown. Particularly in age makeup, Boseman nails James Brown beyond mere impersonation.
Viola Davis and Nelsan Ellis play Brown's mother Susie and confidant Bobby Byrd respectively. Both earn Supporting Actor nods. Davis' portrayal of James Brown's mother manages to stand out despite having only a handful of scenes in a very long and rambling story. Ellis flawlessly transforms Byrd into the audience's surrogate without fading into the background. His interest, jealousy and respect become ours.
The storytelling is very effective, unraveling a piece of the legend at a time while straddling two or three different eras in time. The movie gives us the ending up front as a ticking clock to expect and work towards. Every scene builds up to a cathartic back-to-back theses statements on the defining relationship between James Brown and his mother, and his best friend and bandmate Byrd.
"Don't cry," Boseman's Brown tells his mother – and the audience. But he says it too late for either. "Do as I say, but not as I do" he says directly to the camera before portraying the infamous, 1988 PCP-fueled police chase that is but one of many insane episodes in Brown's life. The movie is not a farce or hero worship. Instead it is a celebration of the good, bad and legendary aspects of a remarkable entertainer in the form of a musical movie that is uncompromisingly entertaining and original itself.
Matthew and I saw it in the theater had a discussion in the car: