The Hundred-Foot Journey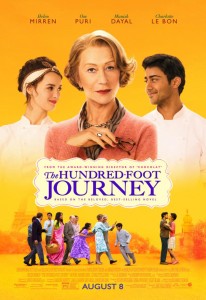 The Hundred-Foot Journey – PG
Release Date: Fri 08 Aug 2014
The Hundred-Foot Journey is a little like going to your favorite restaurant and, after being offered an interesting new special, selecting your favorite dish on their menu. It ends up being predictable but comforting at the same time. It's a validation of your choice without the excitement of a new discovery and easy to recommend to everyone.
After the death of his mother in the firebombing of the family restaurant, Hassan (Manish Dayal) and his family flee Mumbai and try to find a new place to settle down. They try England and Switzerland before their car breaks down in a small town in France. Here they meet Marguerite (Charlotte Le Bon), a sous chef at the nicest restaurant for 50km run by Madame Mallory (Helen Mirren.) They set up shop across the road (the hundred-feet of the title) and cause a stir by making Indian food rather than French cuisine.
This leads to a rivalry between the two restaurants. If you can't guess the ending by now (you can) I won't spoil it here. I will say that the movie can get a little heavy-handed but it quickly moves on and doesn't dwell on its morals. Instead it just presents them as if checking off boxes in a fish-out-of-water / restaurant-themed movie. The four leads are very good in their roles and manage not to feel stereotypical even though the movie itself brings up a great deal of Indian and French stereotypes. In addition to Hasan, Marguerite and Madame Mallory is Hassan's father (credited only as Papa) played by Om Puri. Papa is fiercely proud of his son, which allows Hassan's character to be quiet and mostly humble.
It's an easy movie to recommend, and one that would work across some disparate tastes such as a movie you could take your spouse and in-laws to and everyone would have a good time. While the story is not new and exciting, it's comfortable and enjoyable with some earned laughs and a solid heart. Had our theater offered to sell us Indian food they would have made a fortune on us. In the end, we settled for buttered popcorn instead of butter chicken.
Becky, Aaron, Jeremiah and I saw it in the theater had a discussion in the car: