Let's Be Cops – Movie Review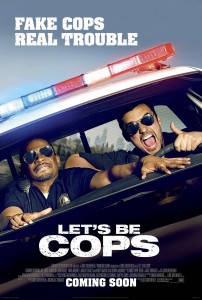 Let's Be Cops – R
Release Date: Wed 13 Aug 2014
Let's Be Cops is a silly premise that turns into a great buddy cop movie. The twist is that they just happen to not actually be cops.
The first act takes the fake cops, played by Jake Johnson and Damon Wayans Jr. to hysterical heights as they answer calls and try to get attention from female admirers. However, they quickly become caught up in a real sting operation to save Josie (Nina Dobrev) from a crime syndicate with the help of Officer Segars (Rob Riggle) a real cop.
This is the kind of premise that can wear old quickly or turn into a silly plot where the two leads are pitted against each other for a while, but Let's Be Cops keeps it funny and full of action right to the end.
Becky, Jeremiah, Aaron and I saw it in the theater had a discussion in the car: