The Giver – Movie Review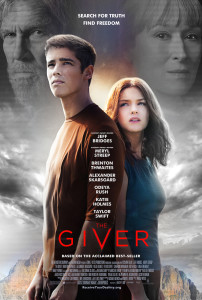 The Giver – PG-13
Release Date: Fri 15 Aug 2014
The Giver is a science fiction adaptation done right – giving us the particulars without diving too deep into any explanations. The history of how this future quasi-utopian society came to exist isn't important here. What we get is a question to consider: What do we lose when we give up the free will to choose badly.
Brenton Thwaites plays Jonas, a boy who is chosen to be the new receiver of knowledge from his predecessor, The Giver (Jeff Bridges.) Only they can remember what life was like with the depth of human emotion, color and so forth. Jonas immediately tries to share these discoveries with his friend Fiona (Odeya Rush) and his parents (Alexander Skarsgård and Katie Holmes) but they are conditioned and hard to convince.
The performances are all good, but the direction and writing set this movie apart. It's 94-minutes fly by hitting many beats that other stories have told before but shedding all the operatic baggage of making it into an epic tale. It does a great job of expecting the audience to know the tropes it is built on well enough to follow and understand the characters' motivations.
While I cannot comment on how well the movie adapts the book (I haven't read it) I was very happy with the movie myself and found it to be much more enjoyable than several recent movies like Ender's Game.
Aaron, Cal and I saw it in the theater had a discussion in the car: