If I Stay – Movie Review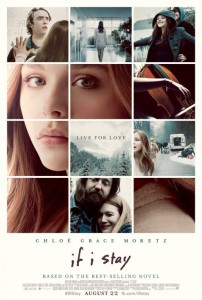 If I Stay – PG-13
Release Date: Fri 22 Aug 2014
If I Stay, adapted from the novel by Gayle Forman is the story of Mia (Chloë Grace Moretz), a teenage girl who becomes a disembodied spirit when a car accident puts her into a coma. The story puts the choice in her hands to survive the coma or perish.
The storytelling jumps about chronologically, especially once the accident occurs and we get a lot of character exposition and development in the form of scenes that play out as her family, friends and boyfriend come to her side in the hospital. The plot becomes more complex as we learn that things are not as simple as living with her boyfriend or dying – she also has to choose to stay with him or follow her dream and go to school to Julliard to pursue her career playing cello.
The depth of the romantic story being complicated by the divergent careers of the two leads make that part of the story more than just a simple answer of her choosing to stay for the one she loves. The parents and her grandfather (Stacy Keach) play an unexpectedly important role in complicating her decision. Her parents are amazing, supportive and sincere and you believe that her choice to live without them is a hard one to make. They also add a lot of the humor to the movie. My favorite scenes belong to Keach, one a flashback to an audition and the other his words to her as she lies comatose in the hospital.
I enjoyed If I Stay more than I expected but was certainly outnumbered in an audience made mostly of teenage girls closer to the age of the protagonist. Still, there was plenty here to enjoy regardless of the main demographic appeal.
Aaron, Cal, John and I saw it in the theater had a discussion in the car: