The Age of Adaline – Movie Review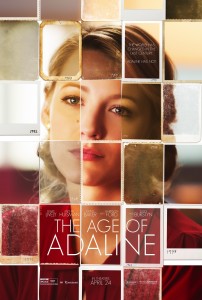 The Age of Adaline – PG-13
Release Date: Fri 24 Apr 2015
The premise of Age of Adaline is that a young woman (Blake Lively) is in an accident that somehow makes her immune to aging. She remains locked in her late twenties appearance and health. Fearing becoming the subject of experimentation, she changes her identity every ten years to keep people in her life from suspecting that she is over 100 years old. Only her daughter Flemming (Ellen Burstyn) knows her secret.
When she reluctantly begins a relationship with Ellis (Michael Huisman) she runs the risk of being found out when she is recognized by his father (Harrison Ford) as being identical to a woman he knew in the 1960's. Adaline must decide if she can trust her new love with her secret and if she can live with the prospect of watching him grow old and die as she continues to live in her ageless state.
Blake Lively's performance sells the idea that Adaline is a 107-year-old woman in experience living in a body closer to 30. She's not decrepit or prudish, she comes across as very cultured, bookish and conservative. One can see the wheels turning as she decides how far to go with Ellis. She's interested, but she knows that it's doomed from the start and that prolonging the end will only make that end harder.
The narration that explains the science fiction of how Adaline comes to be ageless is just enough to explain the phenomena without trying too hard to make it sound plausible or being overly laughable. The explanation got a polite chuckle from the audience I saw it with.
Apart from a somewhat plodding second act (it seems to take Harrison Ford's William just a bit too long to confront Adaline after seeing her), the movie is well paced and told. It's not a sugary-sweet romance story or overly melodramatic. The theme of what happens to a relationship when one person cannot grow old has been told before (see The Highlander), but The Age of Adaline is a simpler more straightforward story that I can recommend to those looking for light drama and romance alike.
Amber, Melanie, Aaron and I saw it in the theater and had a discussion in the car: