Tusk – Movie Review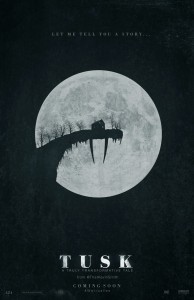 Tusk– R
Release Date: Fri 19 Sep 2014
The impetus behind Kevin Smith writing and producing the incredibly strange Tusk started with a hoaxed Craigslist ad and a series of dares. The synopsis of the story, where an older man (Michael Parks) lures young men into his home and surgically transforms them into walruses is mainly based on the Craigslist ad with the horror-twist added by Smith's script.
The surgical horror aspect bears some resemblance to the plot of The Human Centipede. Parks, returning to work with Smith after Red State (2011) is wonderful as the strange old man, driven to turn Wallace (Justin Long) into a walrus. After Wallace goes missing, his best friend (Haley Joel Osment) and girlfriend (Genesis Rodriguez) team up with a fantastically goofy former Quebec homicide inspector played by Johnny Depp.
With a premise so bizarre and the graphic violence being relatively tame for what is being depicted, it shouldn't scare off interested viewers but it's also not a movie to just spring on someone unannounced. I suppose I would have been more surprised had I not known the basis for how the script was created, but I don't think I would have been as satisfied either. It's a weird concept and going in knowing that made me enjoy the film as a dark comedy rather than a bizarre horror movie.
Aaron, Cal and I saw it in the theater and has a discussion afterward in the car: