The Skeleton Twins – Movie Review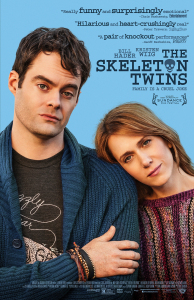 The Skeleton Twins – R
Release Date: Fri 12 Sep 2014
The Skeleton Twins has a fantastic cast that lift the problematic writing to be more enjoyable than it would likely be with unknown. Kristen Wiig, Bill Hader, Luke Wilson and Ty Burrell are all fantastic and balance the line in each performance between comedy and drama.
The trailer and some of the funnier parts of the movie hint at what might have been, a movie that organically built tension without sacrificing standout comic moments. Wiig and Hader have such great chemistry together that it's a shame the movie repeatedly turns to what ends up feeling immature and melodramatic. The biggest issue is the story's use of suicide attempts to give impact and tension to the story. The movie's starting point of the separated siblings each contemplating suicide has a nice feeling of symmetry and feels like a natural problem to resolve. However, two additional suicide attempts are used to badger the audience into taking what's happening more seriously. It feels like blackmail in an otherwise likable, interesting story.
I was truly impressed with how complete the movie feels with just the four main cast. The characters all feel grounded and real, and that adds weight to their pain and joy. Getting to spend the time with these characters was worth the watch, and I ultimately hope to remember the movie for these performances rather than my immediate feeling of having been manipulated.
John M. and I saw it in the theater and has a discussion afterward in the car: