Rosewater – Movie Review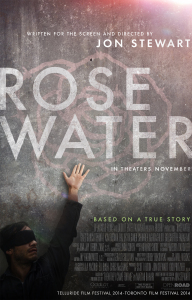 Rosewater – R
Release Date: Fri 14 Nov 2014
Rosewater is a film adaptation of true events from the life of Maziar Bahari, an Iranian-Canadian journalist who was imprisoned and tortured by the government of Iran following the controversial 2009 elections. Bahari appeared in a correspondent story by Jason Jones on The Daily Show shortly before his arrest, and the government (missing that the entire interview was for comedy) believed it had some proof that he was working for the CIA.
Jon Stewart wrote the screenplay and directs. Having his name attached to the project can only help the film, as its the sort of heady re-creation of imprisonment and torture that wouldn't see a lot of distribution outside the festival circuit otherwise. The warm, inviting people out on the streets give way to the cold, Kafkaesque bureaucracy of institutional interrogation tactics that lean much more heavily on the psychological than the physical.
Gael García Bernal is excellent as Bahari, conveying complex and subtle information to the audience even through several scenes where he is blindfolded. His interrogator, credited as "Rosewater" in the credits is played by the imposing (but never cartoonish) Kim Bodnia. Bernal and Bodnia have the heaviest lifting to do here, and their scenes are intense, hilarious and fascinating – sometimes seconds apart.
We saw a screening that featured a Q&A with Stewart and Bahari hosted by Stephen Colbert. I realized a few things from that discussion that I had missed in the film, and it was really interesting to hear Jon Stewart talk about his intent behind this project and his obvious passion for bringing it to the screen.
Cal and I saw it in the theater and had a discussion afterward in the car: