Beyond the Lights – Movie Review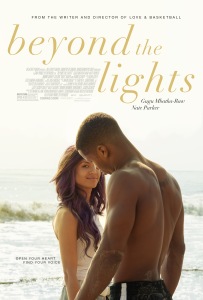 Beyond the Lights – PG-13
Release Date: Fri 14 Nov 2014
Beyond The Lights is a by-the-numbers romance story where police officer Kaz (Nate Parker) saves pop idol Noni (Gugu Mbatha-Raw) after she attempts suicide over the railing of her hotel balcony. They start to spend more time together and develop feelings for one another.
Noni is battling with her label over her image. She wants to write her own songs and appear more "real," while they are pushing her to be the heavily produced and perfectly fashioned star. Her mother (Minnie Driver) is also pushing her in that direction, as it has taken years of work to get her to this place where her career is about to take off.
Kaz has something of a similar but less overt situation where his father, a police captain (Danny Glover) is pushing him toward a career in politics after a stint in law enforcement.
The performances and direction are fine, but the story seems to run out of steam pretty early, with people having similar make-up/break up situations over and over again. They're always a heartfelt apology or monologue away from winning the other character back, and it starts to grate on the audience when we see it coming yet again.
Beyond the Lights was not a painful movie to watch, nor did I find the story insulting but rather something of a waste of time. Still, if you're looking for a fairly harmless date movie, Beyond The Lights isn't a complete loss.
Aaron and I saw it in the theater and had a discussion afterward in the car: