King Arthur: Legend of the Sword – Movie Review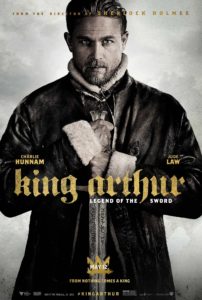 King Arthur: Legend of the Sword – PG-13
Release Date: Fri 12 May 2017
Guy Ritchie's King Arthur: Legend of the Sword is an adequate if forgettable retelling of the Arthurian Legend. The heavily stylized visuals and slick, quick-witted dialogue bears more than a little resemblance to his Sherlock Holmes movies.
That's not to say it's all bad. It's fun enough early on to watch Charlie Hunnam's inhumanly capable Arthur outsmart everyone around him. The prologue leading into the credits does a great job of setting up the stakes for the rest of the film. However, Arthur ages from a little boy to Charlie Hunnam while the villainous Vortigern (Jude Law) does not seem to feel the passage of time.
The Sword and the Stone gets an appearance, The Lady of the Lake gets a little less. It definitely feels as though a lot of characters and ideas were purposefully held back for sequels, but it's hard to imagine this movie becoming enough of a hit to warrant another chapter.
Aaron and I saw it in the theater and had a discussion in the car: