The Hunger Games: Mockingjay – Part 1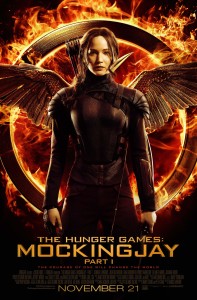 The Hunger Games: Mockingjay – Part 1 – PG-13
Release Date: Fri 21 Nov 2014
The Hunger Games film franchise is in a strange place with this third installment, with the title serving as a clue toward your expectations. The Hunger Games: Catching Fire was a fun action movie that mostly covered the same ground as the first film, adding a cliffhanger ending that left audiences wanting more. More was certainly wanted, and Catching Fire stayed in theaters for what seemed like a year.
Mockinjay Part 1 starts just as breathlessly as the second film concludes, throwing us into a cold opening where we have to figure out what is going on. We follow Jennifer Lawrence's Katniss through the deep underground bunkers of District 13's rebel headquarters. This bit feels similar to the Matrix Reloaded, where we meet the heart of the rebellion in a similar underground camp and it is a much darker and dirtier place than what has come before.
We spend the first half of the movie discovering the rebellion's side of reality and watch her struggle with the propaganda war she is being used to front against the Capital's use of Peeta. Unfortunately, the movie comes grinding to a halt around the halfway mark when Katniss becomes mostly a witness to a siege mission that the movie seems to think is a breathtaking action set piece. It's overlong and by the time it gets to the point to throw up a new cliffhanger for Mockingjay Part 2, we realize that Snow's (Donald Sutherland) line featured in the trailer is in the last 15 minutes.
Readers of the books will likely better enjoy this expanded but fractured story than those of us who have only seen the films, and I found myself wishing I could just watch both parts of Mockingjay with a good 20 minutes or so of part 1's ho-hum climax edited out for pacing. Still, even as the weakest standalone film so far in the franchise I am interested in seeing the story through – provided that Part 2 provides a more satisfying overall experience.
Aaron, Jeremiah and I saw it in the theater and had a discussion afterward in the car: