Wild – Movie Review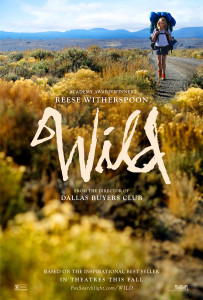 Wild – R
Release Date: Fri 19 Dec 2014
Music plays an important role in Wild, a story of a woman hiking the 1000-mile Pacific Crest Trail from Mexico to Canada. "I'd rather be a hammer than a nail," a line from Simon and Garfunkel's El Condor Pasa comes back in circles. We watch Cheryl (Reese Witherspoon) painfully remove a toenail. We see her mother (Laura Dern) manically humming the song doing dishes is overalls. Wild plays out almost like an album with songs the have verses and choruses, fluctuating back and forth between the grueling "present" of the hike and the many, many flashbacks of many demons.
And yet the movie doesn't seem content to stay as abstract as most of its running time seems to allow. We get that Cheryl misses her mother, that she wrecked her marriage and changed her last name to Strayed as part of the divorce. The ending feels the need to abruptly start a voice-over epilogue that feels incredibly cheap and tacked on. Did knowing how the next ten or so years of her life would go help us feel better? Maybe for a second or two, but the more I thought about it the more it bothered me. Why couldn't I take what hope, grief, despair and happiness I could from the story as it was presented and leave it there?
Wild is not a bad film. It runs longer and seems to go a lot deeper than it may seem from the outset. But the narration is occasionally jarring with the visual. Cheryl doesn't talk to herself, but she also tends to give voice overs that have nothing to do with what the character on screen is thinking. There's a disconnection there – as if we needed to see her cross more land while hearing about something that happened in her past.
Laura Dern and Thomas Sadoski give excellent supporting performances. I'm inclined to believe that the memoir on which the movie is based is probably a better way to experience this story, but the movie is beautifully filmed and could be great if it would trust the audience just a little more than it does.
Aaron and I saw it in the theater and had a discussion in the car: